On Friday I said we were going to paint a table this weekend.
Well, we did not.
But that's okay! Because now I get to ask you about it.
So, this:
is our Coffee Table. We inherited it from a very generous family and we've been happy with it (at various points it's also been a TV stand and a gaming table) but now that we're settling in to a house of our own, we're feeling the need to....how do you say....paint this baby!
The only problem we're having is deciding exactly what color/colors would work best. Our original plan was to paint the entire thing white, with a light grey top and a distressed white pattern on the top. Like this:
But then we looked around our house and realized: We have a lot of grey. And white.
So, now I feel a little stuck. I like the idea of incorporating a pop of color (maybe on the top, instead of grey) but still using a distressed white pattern? And then we remembered we got some free Clark & Kensington paint last year in a deep eggplant, so maybe that could work. (Our couch had purple corduroy throw pillows.) But what about an orange? Or a coral-y pink? I just don't know. (Picture me throwing up my hands and questioning the Heavens, ala King Lear.) First World Problems, you know...they warrant such drama. *grin*
Anyway, I thought I'd see if anyone (with a better decorating sense than I) had any ideas.
Otherwise, I might go crazy and decide I might need to paint it to coordinate with this lamp: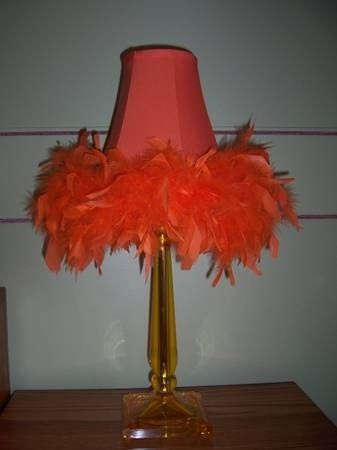 For more hideous lighting specimens click here.