Apologies for the ridiculous title; everytime I type "Homerama"
I just can't stop. It brings out the "Greaser" in me. Thankfully, I do not own enough black leather for my inner Greaser to become my outer Greaser.
If you're unfamiliar with Homerama, it's pretty much a model home show; seven houses designed by local building companies and decked out to the nines by interior designers, with proceeds from ticket sales benefitting

Habitat for Humanity

.
There has been a lot of Homerama blogging from various sources already. (

Starting here

Ashley has a lovely, very thorough, break-down of each house on her blog,

Attempts at Domestication

and John and Sherry Petersik of

Young House Love

, who actually designed one of the homes, walk you through their entire experience

starting here

. It's pretty awesome.)
So, rather than repeat everything that has already been said, we decided to do what we do best: make a list!
But not just any list; a list of imaginary awards that we would hand out to the various Homerama houses, if we had the opportunity (and access to tiny golden statues).
Without further ado, Meredith and Joseph present:
The First Annual Little House Blue Housies Awards!
*pause for raucous cheering*
To start things off, we first present the award for...
Walk-in Closet Most Likely to Make You Feel the Need to Purchase Your Own Clothes!
Aaaaand the winner is:
Checkout counter?
This closet is beautiful.
If I
had this closet in my house, it would be where I would host dinner parties. I would also be loath to enter it in my pajamas for fear that it would judge me. And probably mutter something in french about my hair after I had left.
Up next is our award for...
Best Use of Camouflage by a Utilitarian Object!
It's made of wood and inlayed into the floor so it's completely flush.
We fondly refer to this as "ninja vent" because it is almost undetectable until you're right on top of it. Thankfully, it's purpose is just circulating air and not assassinating you. Otherwise, we'd be goners. The house (House #6, Viniterra by Falcon Custom Homes) had beautiful hardwood floors done by
Evans Carpet
. They were the only thing I actually had enough guts to ask someone about; they were so interesting and probably cost more than our entire house.
For our third award, we present:
Hardware Most Likely to Inspire Doorknob Envy!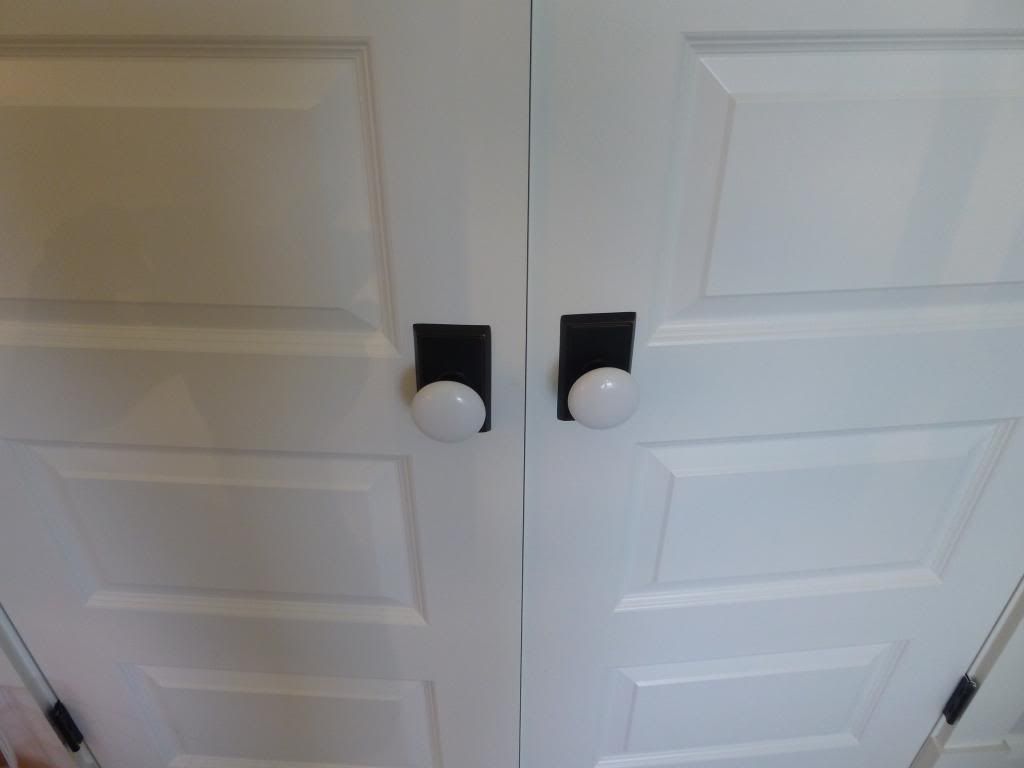 To be honest, we really don't remember much about the hardware in the other houses. (Which is kind of telling about how interesting it was.) These though, these stand out. They're statement pieces. And they're saying, "Hey, psst, come open this door. You know you want to." And all I can think is, "You're right. I do want to...I'd follow you anywhere, beautiful doorknobs..."


Award number four...
Most Perplexing Use of Decorative Metal Letters!
Is it French? Is it "lice" all scrambled up? Who knows!
Really, do you know? We couldn't figure it out.
But we made a lot of jokes, so it's a winner.
Number five:
Best Subterranean-Waterfall-Inspired Shower!
Well, only subterranean waterfall-inspired shower.

Is this a shower or a cave?
Granted the fixtures are beautiful, kind of like jewels sparkling in a mine...
A mine that you shower in.
Our Sixth Award:
Bathroom Whose Square Footage is Closest to that of our House!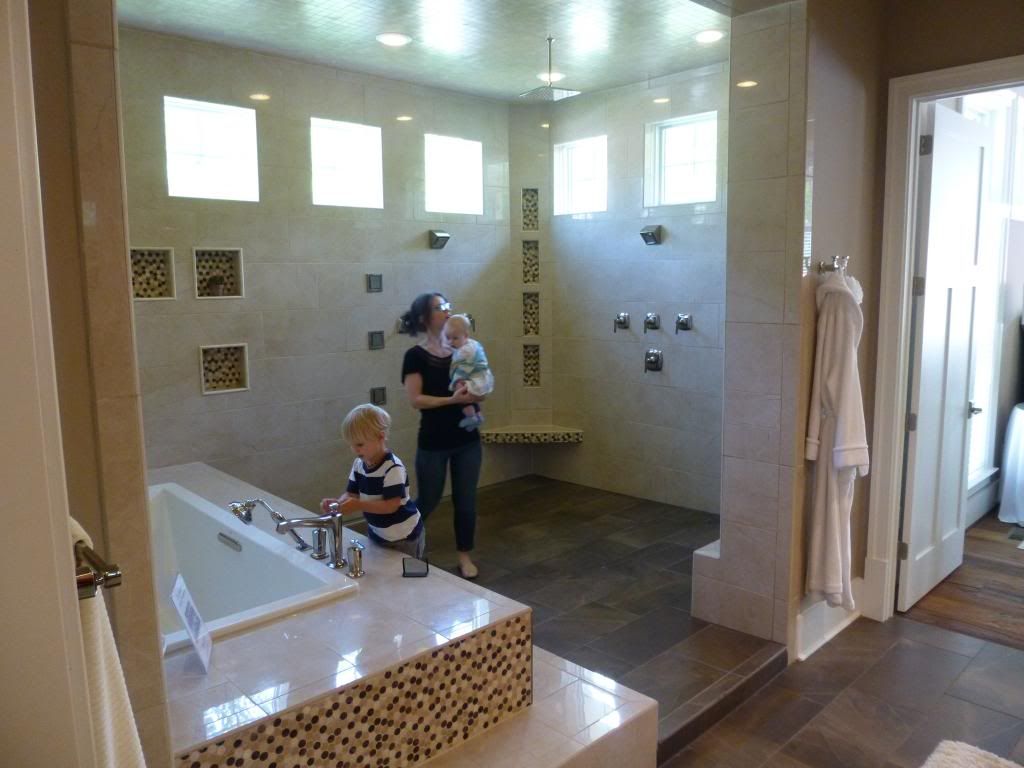 Oh, but there's more! Bathroom, that is. The bathroom/water closet in this house came in at just under 600 square feet. That's 230 square feet less than our house. It was impressive, you could put on quite a concert, singing in a shower like that.
Not that anyone here does that.
And certainly not Andrew Lloyd Webber medleys.
Anyway...moving along, we have our final award:
House Most Likely to Have Been Designed by King Minos as a Home for His Minotaur!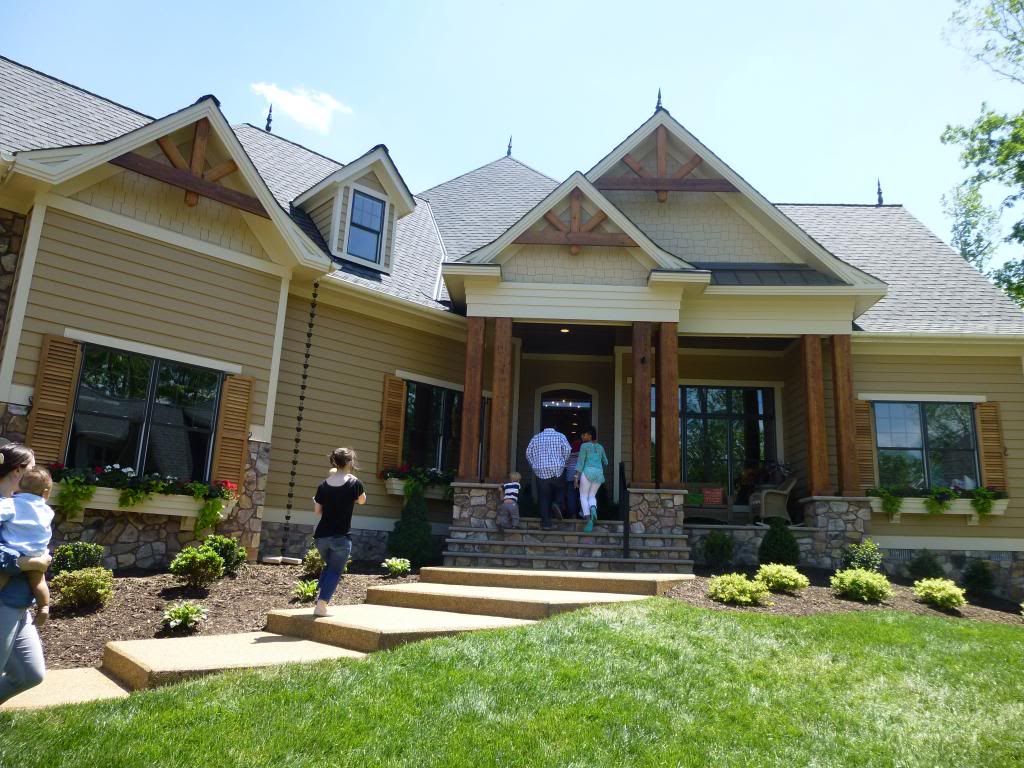 You may not be able to tell from this floor plan sketch, but we got lost in this house. Twice.
Now, I certainly don't claim to have a fantastic sense of direction, but when I wander through multiple hallways on my way from the living room to the guest bedrooms, I start looking for the Goblin King and an M.C. Escher staircase.
And thus concludes the awards portion of our post. In all seriousness, we had a great time. There was a Moon Bounce and free snow cones, tons of food and everyone we talked with was really nice and just seemed happy to be there; like the fanciest block party we've ever been to.
We will definitely be going back next year. And we probably won't be able to resist another round of silly awards.