Thank you, everyone, who weighed in on The Hook Dilemma on Saturday. The results are in (and firmly attached to our wall). We chose....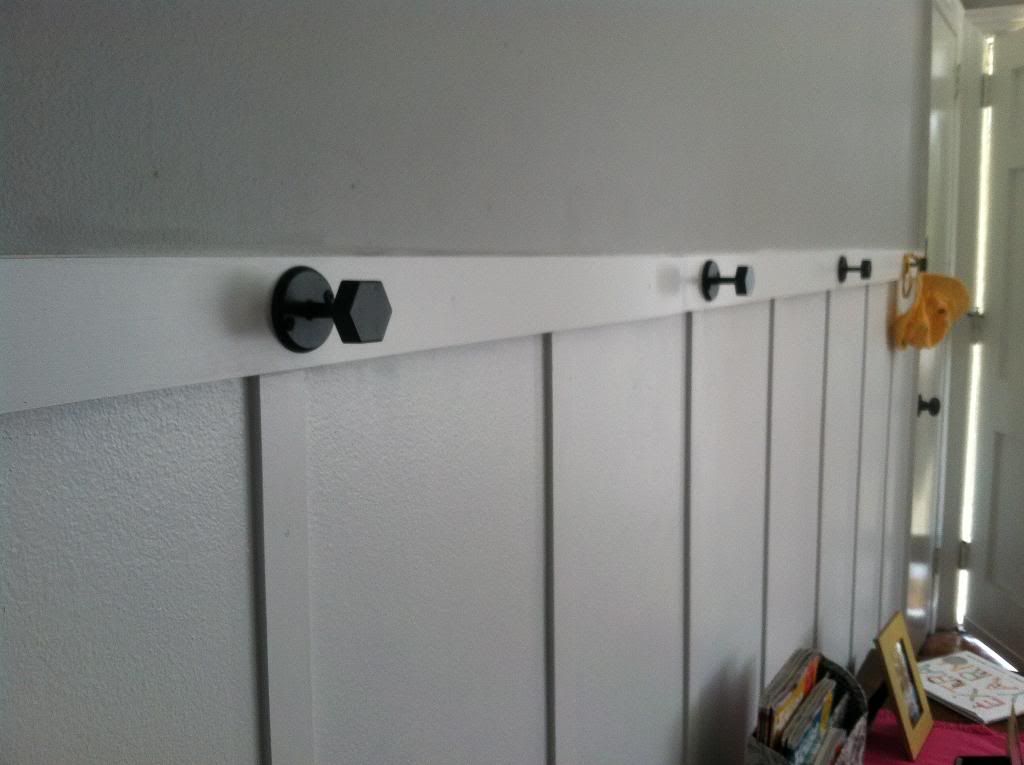 ...these! Ta-da!
I think these won in the popular vote as well. We ended up siding with them because, to me, they looked a little more substantial and a little less awkward hanging there, empty, waiting to be useful...
The line of the other hooks going down the wall was kind of giving off a weird restaurant "hang your coat and right this way, please." vibe. But we really did like both of them.
Hexagons = totally the new chevron.
And speaking of hexagons, I made this last week:

After becoming obsessed with
Mandi's hexagon wall
but knowing I was neither skillful nor brave enough to style an entire wall, I decided to craft a similar look on canvas using left over test pots of paint and toothpicks.
It was a lot of fun and I think it's kinda cute.
Between that, the hexagon hooks and the new YoungHouseLove Bee wall hook
we just put up in the bathroom
, we're becoming very "hive"-minded. The best part? Now the dusty yellow pollen that coats every surface of our home isn't gross, it's an accessory!
Also, it matches our newly-yellow door!
I love our new yellow door.
It's so happy.
It's so cheerful.
It brightens the whole house. The whole neighborhood!
It's actually a more muted yellow than we had originally planned, which , looking at it, is really saying something about our original thinking.
We've had a couple incidents of "oops, this paint looks different on the wall than on the tiny paper swatch". (The playroom that we were hoping would be a muted but strong golden-yellow is actually closer to freshly churned butter. And our "deep, peacock inspired"
nightstand
is really, let's face it, "doctor's office teal".) So, we decided to follow the advice of many DIYers who have come before us this time.
First, we hit up Home Depot where we giddily grabbed about 5,000 yellow-ish swatches. I then taped them all (ALL!) to our door and stared at them.
Then I waited a couple of hours and came back and stared at them some more.
Then Joseph came home and we stared at them together! (Talk about a hot date.)
The point, which you probably know because it's what every responsible Internet Person advises you to do when picking a paint color, is to watch the way the changing light affects your color choices.
After all our staring, we settled on two colors: Zennia Yellow and Charismatic. (Both by Behr.)
We then did the next "responsible painter" thing: we purchased test pots.
So, for a week our door looked like this:

I really wanted to get the neighborhood involved, I almost put up a sign: "Honk once for Zennia, twice for Charismatic!" But I didn't think anyone else would be as excited about a door color as I was.
It was another tough decision, but we ended up choosing "Charismatic" , which is the more muted of the two. We are planning on replacing our door in the not-too-distant future (it's seen a lot of wear and tear) and we are considering replacing it with a light colored, non-stained, wooden door. So, we thought a muted yellow might give us an idea of what that would look like.
This weekend Joseph and I switched off door and baby duty and managed to finish it by Sunday afternoon. We opted to forgo a small roller and just did the whole thing with a 3" angled brush. We did remove the hardware to make things easier. (Except the peep-hole which seems pretty firmly embedded in there. Peep-hole....ew. I told Joseph I'm renaming it "the Spyglass". He does not approve.)
So, our process was simply: remove hardware, wash door, sand door using a hand sanding block with 100 grit sandpaper:
wash door again to remove left over sanding dust, paint door with three coats of Behr Premium Plus Interior/Exterior High Gloss Enamel,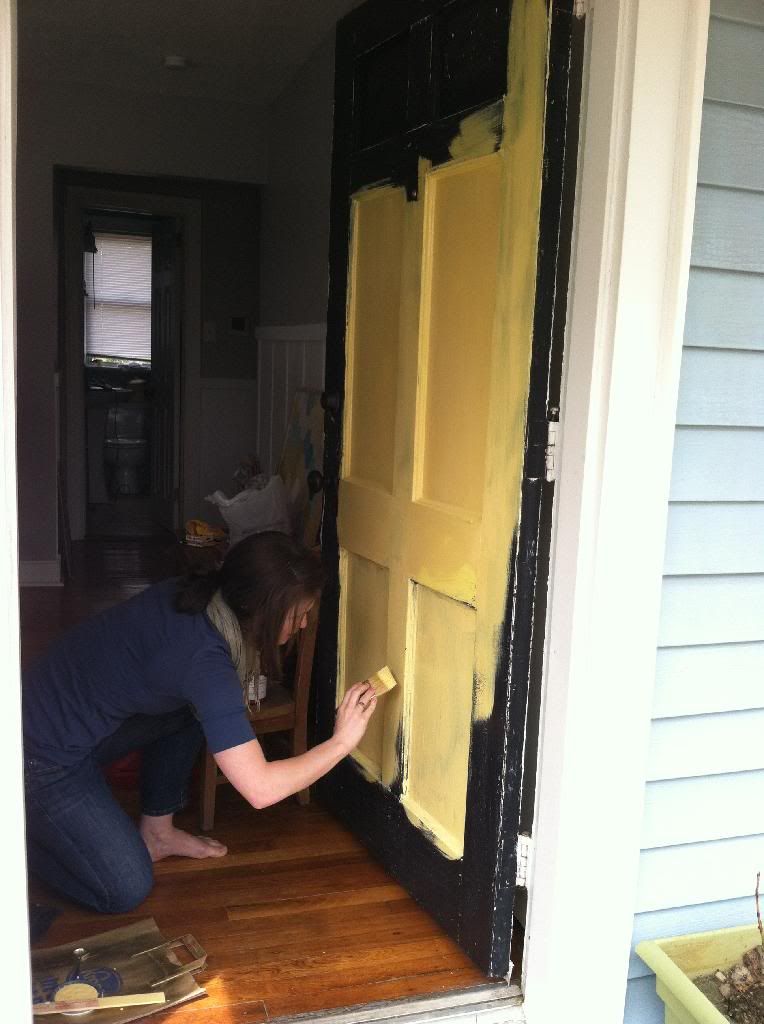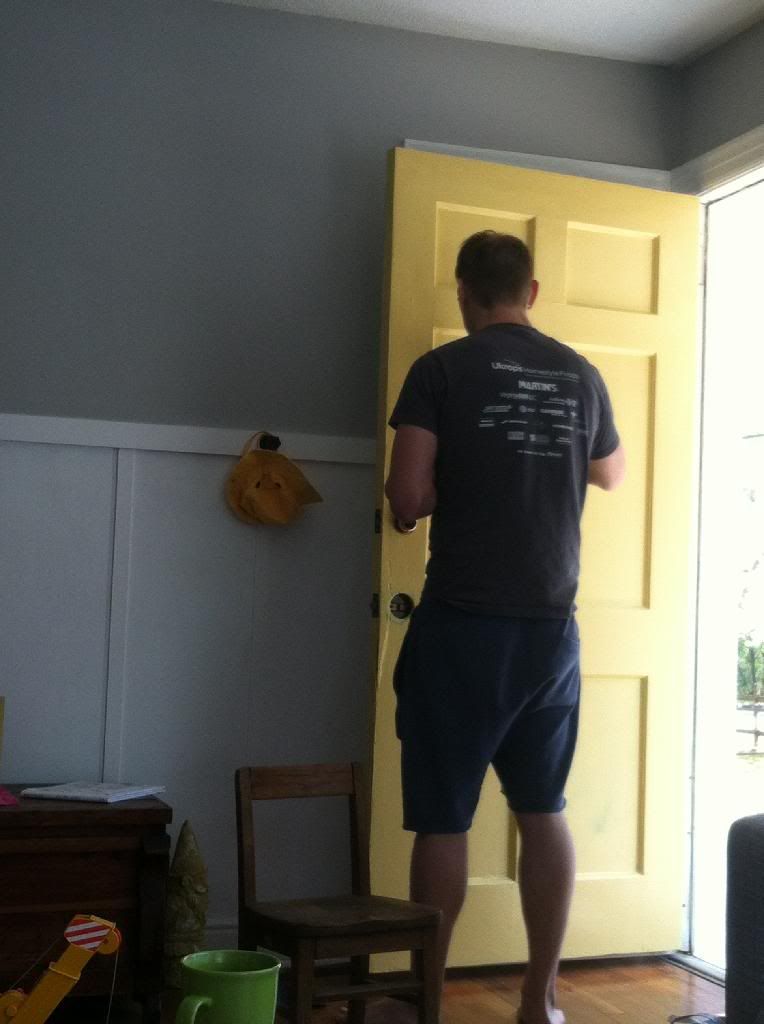 let dry for about four hours, replace hardware. Thaaaaat's it! Pretty easy. Aaaaand....
here it is!
It's a good thing.
It's a touch brighter than we thought it would be, but we like it and we're definitely glad we picked this one over the even more bold Zennia yellow.
Lesson learned (for me): following advice, going to the extra trouble and doing things the right way is totally worth it.
....at least when it comes to picking a paint color. I'm still a "fly by the seat of your pants" kinda girl at heart. (Don't fence me in!)
Anyway, with our new yellow door and our tiny green grass stubble, it's getting much more colorful around here.
In parting, I have a question: Are brightly colored doors on the way out? I still love driving through a neighborhood and seeing teal and coral and eggplant doors, but I've been wondering lately, since all good things must come to an end, if, given the kind of ...saturation we're experiencing, the design pendulum is due to swing back the other way soon. Back to crisp white with black hardware or natural wood with brass...
I'm not sure how I feel about the prospect. I love color...but I also love change....what do you guys think? Colors: so 2013, or here to stay ... *whispers ala Calvin Klein ad* ...forever.