*blows off dust* cough cough hack cough
Well, it has been... a while. To say the least. Does that mean we've been idle? Not in the least! We have been quite busy. Firstly we had a second baby. This is by no means new news (hehe, newnews) but I don't know if we ever really addressed that on the blog here. Her name is Alice and she's a cutie.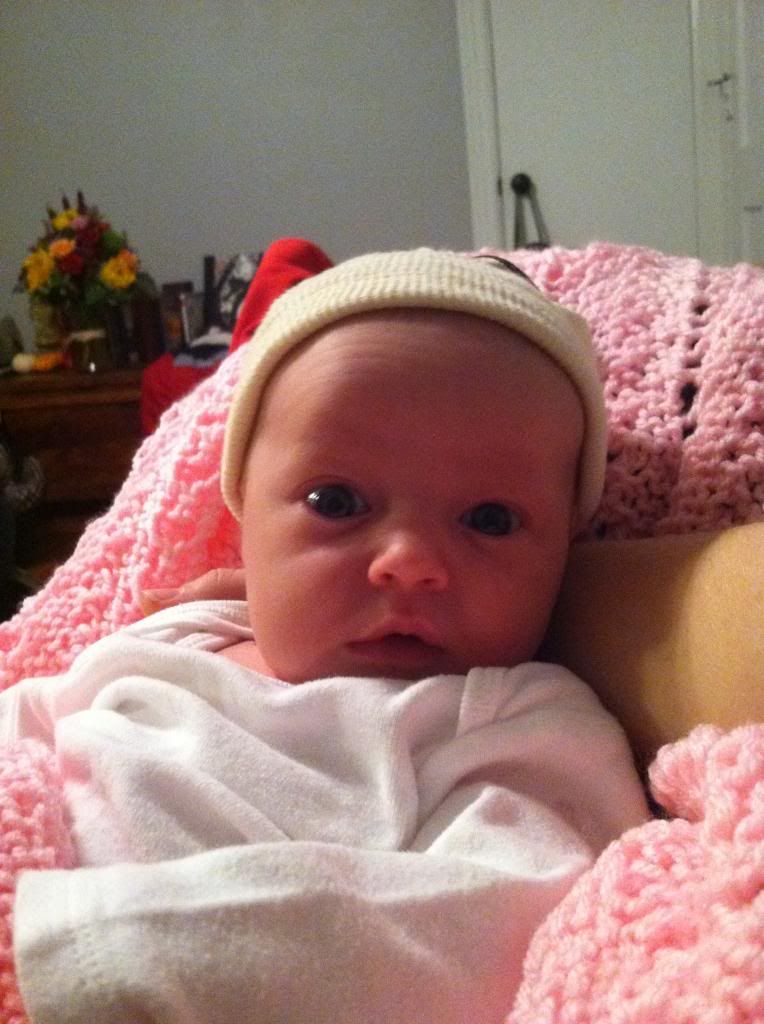 She's looking a bit older than this now, but this goes right along with the uber belated announcement.
Right after that Meredith's phone broke. Since we don't have Internet at the house that meant no posting for her. She's on a "temporary" phone but we're getting that fixed soon so she'll be back.
Alongside that, of course, were the holidays. A time of joy and cheer... packed with the need to get far too much done in far too little time. We made quite a few things so we stayed quite preoccupied.
Since then things have picked up at work so I've had less time to share as well but we're going to try and get back on the wagon here and get this show on the road.
There have also been quite a few happenings at our little house that I will attempt to summarize here. If it's something more involved and worth sharing there will probably be a follow up post to explain in more detail later on. Pictures will be sporadic.
In one of those "this has been listed on Craigslist for so long there's no reason to bother asking, oh wait it is still available" moments we managed to score a sweet pedestal table for $50. We'll have to sand and paint it (which is too bad because the colors are actually kind of cool) but that's not too bad.
We also hung some shelves in our kitchen to provide some more storage space in there as well as a nice way to display things. We bought some 10" lumber that we had cut at the store. Then I used my router to give them this fancy shmancy edge.
The shelf brackets were only $4 a pop but they're rated to hold 100lbs per pair. I wanted to make extra sure so we have three brackets on the longer shelves. I think it makes them look more substantial anyway. We thought about having four on each but this was where the studs were and we figured having one extra on a stud was probably better than having two extra not on a stud.

Probably the biggest change to our house is the fact that we have wiped the slate clean on our front yard. No really though. That slate walk? I wiped it out. With a pick axe. Every time it rains hard all the water from the road pools in our front yard so we're going to bring in some dirt to raise the level of the yard. First we started by cutting down three more trees that we could handle
ourselves
with help from some friends and family. This had to be done very carefully since the phone lines were running through one and right next to the others. This should allow more sunshine and help grass to eventually grow. We pulled up what we had done with the mulch beds and raked everything level. Then, over the course of a couple weekends I gradually pick-axed our walk into oblivion. It was already in shabby shape and it would be sunk down into the ground once we added dirt. Next we're having a guy come in and remove several alarming pine trees to rid us of piles of pine needles and the fear of being crushed at every storm. Aaaafter that we can have the dirt brought in.
Grayson having fun in the mud during deconstruction.
We also decided to take this opportunity to redefine the borders of the yard and the driveways and give some space back to the yard on both sides. At this point the plan us to have dirt trucked in, spread it out and tamp it down, and then spread winter grass seed and hay.We'll see how it all works out. This is all an experiment for us anyway. After the yard is in better shape well put a sidewalk in. We're leaning towards brick to match the foundation.
So yeah, lots of crazy things have been happening at our poco casa azul. And there's more to come so stay tuned!